Shaker Bottle is mainly the material. Generally, the more expensive Shaker Bottle is very solid in your hand.
  Apart from this, I think there are roughly three types of Shaker Bottles.
  Multilayer Shaker Bottle
  Single layer Shaker Bottle
  Electric Shaker Bottle
  I use the multi-layer Shaker Bottle the most, and I have been using it all the time. There are usually 3 layers. One layer contains amino acids/granules/capsules for drinking water, and the other layer contains protein powder. The price generally starts at 30 yuan. The disadvantage is the capacity. Smaller, usually only about 450, and a bit cumbersome. We recommend the SMARTSHAKE signature Shaker Bottle. The price is about 30 yuan. The blender bottle Shaker Bottle is also very good. This brand specializes in Shaker Bottle, and there are many types, but the price is generally not Cheap.
  The single-layer Shaker Bottle is even the most common Shaker Bottle. The price starts at RMB 20. It is impossible to install anything except water at the same time. The advantage is that the capacity is generally larger, about 700ML. Some single-layer Shaker Bottles will have a similar The spring thing is convenient to break up all kinds of protein powder and amino acids. It is better than a simple stirring ball. I recommend Perfect Shaker's superhero co-branded Shaker Bottle, which is for personal use, and the price is about 30 yuan.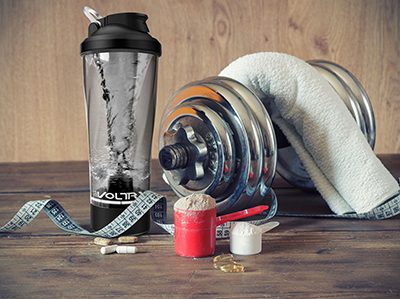 Electric Shaker Bottle, the price is at least 50. It looks good, spicy chicken stuff. I regret buying it. It's okay to use amino acids. It is basically impossible to open a little more protein powder or muscle building powder, and it is basically your own. Repair, cleaning is also very troublesome, it can't be soaked in water, and it's very inconvenient to get it to the gym. I bought one a long time ago, and if it breaks, I haven't studied this spicy chicken stuff.
  My friends often give me some Shaker Bottles. Generally, I keep them for my own use or give them to others. The ones with a bad feel are given away at the gym. So I haven't bought a few Shaker Bottles. Basically, I use them. Some mid-range gadgets, high-end ones that are more than 80 yuan or more, have basically never been used