This is the protein shaker bottle you want. The price is very good, you bought two, leak-proof. I like the extra compartment. The vibrating screen does a good job of eliminating lumps, but I hope the sieve is smaller, because if it is shaken improperly, sometimes lumps may leak out. If the sieve is smaller, these will get stuck in it. In general, it can complete the task as scheduled. I have a little problem with how easy it is to clean the parts. The body is easy to clean, but the design of the cap is strange, which sometimes makes it difficult for the dishwasher to clean.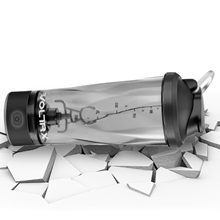 I really like these Shaker Bottles. Loosen the screw at the bottom to store the dry powder. The cup itself can hold your milk or water. I used it for about two weeks, and no leakage was found. I really like the handle on the spout. The only slight dislike is that there are small cracks in the lid, the powder will get stuck inside, and you need a toothbrush or a small brush to take it out.
  If I lose or damage these Shaker Bottle Steel, I will order them again.