Owener's Manual
How to Use
Directions
After unpacking, be sure to fully charge the product before use. When charging, the base LED lights to indicate the current battery level. When the battery is fully charged, all the LED will turn off.
Three easy steps!
ADD LIQUID: Fill your VOLTRX with the liquid of your choice. Ideal fill = 250-400ml (9-14oz)
ADD PROTEIN OR SUPLEMENT: Pour liquid or powdered supplement into vortex (up to 60g).
ACTIVE YOUR MIXER: Push button to activate.
Tighten the lid and enjoy your drink.
Operating Modes
Power Button
| | | |
| --- | --- | --- |
| Mode | Operation | Action |
| 1 | single press | 30-second stir |
| 2 | double press | 3-minute stir |
| 3 | long press 2 seconds | show battery level |
| 4 | single press during stirring | stop stirring |
Product Introduction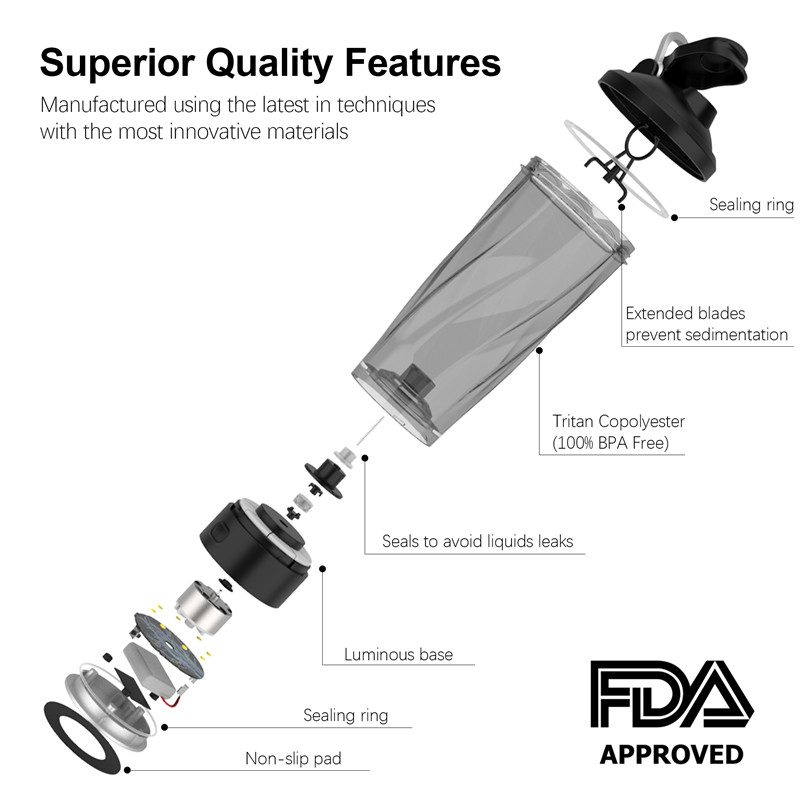 Product Information
Product Model
VortexBoost
Capacity
24oz(700ml)

markings goes to 20oz(600ml)

Size
3.6×3.6×9.4 inches
Weight
0.55lb
Wall Material Type
Eastman Tritan
Cap material Type
PP
Water Resistance
IPX5
Working Current
500mA
Rate Power
2.5watts
Battery Type
Li-Polymer
Battery Capacity
700mA
Normal Voltage
3.7V
Charging Time
more than 1.5 hours
Important Notes
To avoid damage and injury, do not pour water over a 160 Fahrenheit into the bottle. Too high a temperature will cause a pressure buildup during operation, which may break the seal and gush out the top.
Do not put the cup in the microwave oven, disinfection cabinet and other high temperature environment to heat. Do not freeze this product.
Do not add dry ice, carbonated drinks and other liquids prone to high pressure. Do not add strong acid and alkali to prevent the inner wall of the container from corrosion.
Do not store dairy products or baby food in cups for a long time.
Please avoid contact with this product by children to avoid damage or liquid overflow.
Do not immerse the base completely in liquid for a long time to avoid failure.
Battery Energy
Battery life largely depends on how often you use it. The 1 charge 1 month claim is calculated based on the 30 second stirring mode used three times a week.
Charge with micro android cable. The product can be charged with 1A and 2A current.
When charging, the LED indicator will flicker at the current battery level, and all the indicator lights will be off when fully charged.
It takes about 2 hours for the battery to be fully charged after the battery is completely exhausted.
To ensure safety, the motor cannot be started when charging.
At the end of mixing, if the LED indicator lights go out successively, and all the LED lights flash rapidly for 5 times, it means the battery should be charged.
Troubleshooting
Failure performance
Possible Reason
unable to start stirring
in charging state

low power

base and cup are not installed in position

weak stirring power
low power

too much shakes

base and cup are not installed in position

the base and cup cannot be assembled
foreign body in the slot

slot is not located correctly
If you have any problem that you can't solve, please feel free to contact us, we will make you 100% satisfied.
support@voltrx-global.com
How to clean?
Cleaning method
Use neutral detergent or water to clean the cup.
Add adequate amount of water to the cup and turn on the stirring function to clean the inside of the cup.
The base is waterproofed to IPX5 (IPX5 accepts normal water flow and cannot be completely submerged for long periods of time). To prevent short circuit, remove the base before cleaning.
Open the lid
Clean the interior
Base removal method
Before washing or placing the cup in the dishwasher, remove the base to prevent water from entering the motor.
To remove the base, hold the cup with your left hand, hold the base with your right hand and rotate to the left to remove the base.(as shown below)
After cleaning, please keep the gear dry, otherwise the mixing efficiency will be reduced.
After removing the base, do not remove the gear and silica gel at the bottom of the cup, otherwise, the mixing efficiency will be reduced.
After the base is reinstalled, make sure the buttons are aligned with the center of the LOGO, otherwise the mixing efficiency will be reduced.
If the base falls into the water accidentally, dry the surface of the base and then blow dry the inside of the base with an air blower. Normally, the motor can continue to work.
Features
Our have-duty moto, assembled with industry leading technology, spins at 2000rpm, ensuring smooth mixing with no lumpiness. Helps the body absorb nutrients more efficiently.
Insane 1 month of use from a 2-hour charge
Enjoy a year of battery life with just one charge (based on three times a week usage pattern). Powerful motor ensures no remaining chunks (performance may drop slightly when charge is low).
Wide mouth makes it easy to add mix scoops and liquids
Screw-on lid creates leak-proof seal and secure flip cap keeps germs at bay; Wide loop top for easy carrying or attaching keys.
Infant Grade Eastman Tritan
Made of BPA and phthalate-free, stain and odor resistant durable Eastman Tritan plastic.
IMPORTANT
Dear customer,
Thank you for choosing VOLTRX.
As a reliable seller, we always strive to provide 100% satisfactory products and services to our customers, so we hope that your shopping experience will also feel the same. Your satisfaction is the driving force of my work.
If you find any damage or dissatisfaction after receiving the product, please feel free to contact us at the first time, we are dedicated to ensuring your 100% satisfaction, be assured that VOLTRX always take customer experience as top concern and eagerly want to resolve problems for you. All of our products come with a worry-free 12-month warranty, and our friendly customer service professionals are always standing by to help.
If you are satisfied with our products and services, I hope that you can leave us a review at a convenient time. I think your review will definitely be referred to other users later, and other customers will be grateful to you.
Best regards,
VOLTRX
We hope you never have the need, but if you do, our service is friendly and hassle-free.
support@voltrx-global.com