From simple powder mixes to crazy mixes at smoothie shops. I believe you have many healthy breakfast options.
  In a healthy world, everyone is looking for the best skills, the best recipes, and the best food choices. Of course, we do this to optimize our health.
  Of course, all simple things are good, not always complicated. However, encountering new things is always monotonous.
  Have you used an electric shaker bottle for breakfast? I'm not talking about smoothies or protein shakes. It's a little different. The texture is different, but it is also very nutritious. This is a breakfast that will make you feel full and satisfied.
  Let me talk about the ingredients first.
  do you need:
  a cup of dried oats
  -1 tablespoon of Tzu Chi seeds
  1 cup almond milk (or any other milk)
  1 tablespoon of your favorite protein powder (preferably with vanilla)
  1 banana
  1 teaspoon cinnamon
  1 tablespoon nut butter
  This is a very simple ingredient list. Oatmeal is rich in energy and fiber and is very suitable for digestion. Kia seeds not only provide fiber, but also provide omega-3 fatty acids for all brain functions and heart health. Almond milk will give you almost a creamy texture, which is always better than pure water. Some protein powder should be put in for breakfast. 1 Banana thickens and provides potassium. Cinnamon and nut butters can provide flavor and add some fat.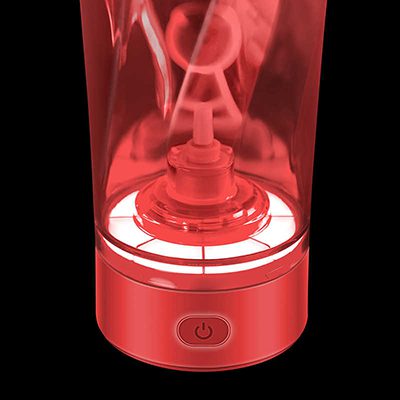 This combination will make you full, but it will involve a wide range of nutrition.
  how to deal with all this now:
  Use a blender to grind the oatmeal into powder.
  Remove the oatmeal, add milk, protein powder, banana, cinnamon, nut butter.
  Stir until almost liquid, more than smoothies (you may need to add more milk).
  Take your protein Shaker Bottle, add the mixture, then add oatmeal and Zhengda seeds.
  Shake the shaker strictly, and put it in the refrigerator.
  Take it out of the refrigerator in the morning and enjoy it.
  If necessary, you can even pour it from a shaker into a bowl, but it should be enjoyed completely as a liquid breakfast.
  This idea was inspired by all night oatmeal. Oats and oat seeds will thicken overnight, making the mixture more textured. This almost requires chewing something, which helps inform the brain that you are full. Sometimes, the shaking of the liquid can make you hungry. You may not even finish this breakfast. You will be ready the next day.
  Shaker Bottle is made of stainless steel and has a stylish design. Thanks to the use of stainless steel, it can keep everything cool. So, suppose you have prepared breakfast, but you will travel all morning. In a hurry to save time, you can throw it in the car to keep it cool for several hours. This makes everything super convenient. The shaker does not leak water, indicating that your delicious breakfast will not leak. The NitraPro bottle will be launched soon. February 4, 2020. Learn how to buy your own products on nitroapro.com
  Make yourself a super cool vibrator NitraPro, and turn your breakfast into a great Shaker Bottle. You can even be creative and add other fruits and even vegetables.