The type of protein shaker that meets the subject's requirements can only be an electric shaker bottle. Compared with the ordinary protein shaker, there is only one more small thing (removable) for mixing, and it is designed to be more sporty. Don't say much, let's start recommending~!
  Voltrx Shaker Bottle limited electric shaker bottle   
This electric shaker bottle is made of Tritan material, with a small and fresh appearance design, with a capacity of 24oz and about 709ml. A brief introduction to what is Tritan™, Tritan™ has passed the FDA certification of the US Food and Drug Administration, and is a designated material for infant products in Europe and the United States. According to the National Standard GB-4806.6-2016 of the People's Republic of China implemented on April 19, 2017, it is approved as a plastic resin for food contact, and the approved use environment is not greater than 100°C. It is recommended to use water temperature ≤50℃. If hot water is poured into the cup, high air pressure will be brought to the inside of the cup. Opening the lid will easily cause splashing and risk of scalding. In addition, it will accelerate the aging of the material in advance, reduce the performance and affect the appearance.
  American BlenderBottle Classic classic electric shaker bottle
  This electric shaker bottle is made of high-quality PP, free of BPA and phthalate. The wide-caliber design makes it easy to clean the cup. The classic screw cover and safety flip cover prevent water leakage and ensure that the cup does not leak. There is a scale on the side of the cup body, and the product capacity is 20oz about 591ml. A small steel ball is an item put into a cup for stirring.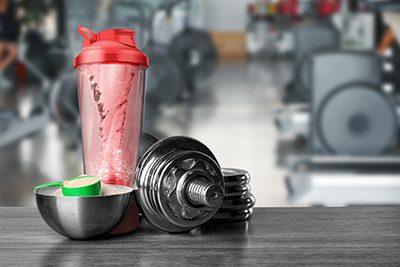 Classic classic electric shaker bottle American BlenderBottle Classic classic protein powder electric shaker bottle sports protein shaker milkshake cup 20oz​detail.tmall.com
  Thermos Tritan electric shaker bottle TP4086
  This electric shaker bottle also uses Tritan material, with a capacity of 500ml or 710ml. The difference from BlenderBottle is that it uses an upside-down detachable grid, and the whole body is transparent without printing, and the design is more concise.
  Thermos Tritan electric shaker bottle Zhu Yilong same style electric shaker bottle Thermos sports cup Tritan plastic protein shaker Portable sports protein shaker TP4086-tmall.com Tmall​detail.tmall.com
  In addition, I recommend two cheaper protein shakers that I personally like.
  Pasha Paqi with scale can be heated high temperature cartoon glass
  PASABAHCE originated from Turkey, is a simple and elegant brand. Made of lead-free tempered glass, the pattern is fresh and lovely, the printing is firm and clear, without fear of high temperature, daring to ice, and strong temperature difference without cracking. The capacity is 570ml.
  Pasha Paqi with cartoon glass cup Pasha Paqi imported cartoon glass milk cup ins with scale microwave oven can heat high temperature protein shaker -tmall.com Tmall​detail.tmall.com
  Tupperware Yingcai portable protein shaker
  I used this protein shaker for four years, and I dropped it more than 20 times, but it did not burst. The cup body is made of PP material, transparent and logo-free design, the capacity is 430ML, and a variety of colors are available. The strong, durable and simple design is what attracts me.