How about the voltrx protein shaker bottle, the quality is really good–
  1. Thickness is the best thickness in Shaker Bottle I have seen
  2. Material
  Do you see the 5 in the triangle symbol? Do you understand the number at the bottom of the drinking cup? Do you see the 5 in the triangle symbol? Do you understand the number at the bottom of the drinking cup?
  Plastic bottle, look at the numbers in the triangle at the bottom:
  No. 1 PET: heat-resistant to 65°C and cold-resistant to -20°C.
  HDPE No. 2: It is recommended not to recycle.
  PVC No. 3: It is best not to buy.
  No. 4 LDPE: not strong in heat resistance.
  No. 5 PP: microwave lunch box, fresh-keeping box, high temperature resistance of 120 ℃.
  No. 6 PS: It is heat-resistant and cold-resistant, but it cannot be placed in a microwave oven.
  No. 7 PC other categories: water bottle, water cup, milk bottle.
  3. Smell
  Smell on the premise of packaging, you open the sealed bag, twist open the cap for the first time, and then smell it. There is no peculiar smell. I opened several of them and tested it without any peculiar smell,
  It's said that it will get smelly when you wash the protein shaker bottle. It has nothing to do with the water cup? Is it the characteristic of protein? It's because you don't wash it right away after drinking the protein powder. Of course it will smell bad the next day. There is a reason that raw eggs will stink if they are not cleaned up for a day.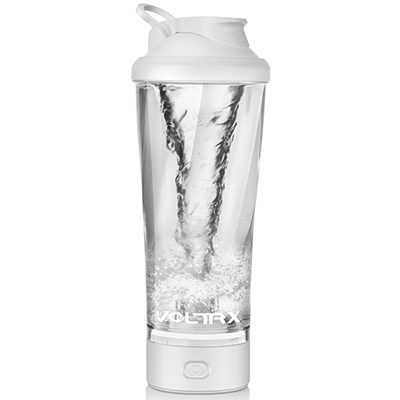 Of course, poor quality cups are not clean at all. .
  4. Easy to use
  With a pull ring, you can hang it to your backpack or hang a key. You can pick it up with one finger. There is a steel wire ball inside to stir. Protein powder, milkshake, milk powder, juice, etc. Shake it, everything!!!
  5. Easy to clean
  Just put your hand in and you can wash it. You don't need to buy a special brush, it's too much trouble. Drinking water is easy, right?
  Specially designed for sports and fitness people
  Large capacity, timely supplement of water and nutrition during exercise is essential
  Large capacity means you don't go to the water dispenser several times
  With powder grid, easy to carry, protein powder, supplements, pills, portable food
  provides you with simplicity and convenience
  7. Don't mention leaks. .
  No water leakage No water leakage No water leakage Say important things three times
  Can such a high-end, professional and flowery cup leak?
  can't do it! Otherwise, it's unprofessional
  put it in your backpack with confidence!
  caveat. . . Unless you fill it with boiling water!! Don't use it as a thermos
  Okay, just do it like this!!
  Besides, it's easy to buy
  Domestically, all major shopping websites have them. The prices are a little higher than those in foreign countries.
  I also sell it. If you need it, you can search the store with X treasure. Monster 168
  Little seller, elementary school students, there are still many things to learn, life is not easy, working hard together, do not expect to get sales here
  Go up and drill the crown, operate with integrity, walk there and count there, all are real shots, not to buy orders
  What's the purpose?
  I just want to let everyone know the good things, it's all collected information plus my own understanding
  You can go and see for yourself to feel different. Hope to adopt, thank you.