voltrx electric shaker bottle changed the game
  Effortlessly mixed in one button-the voltrx electric shaker bottle marks the development of a traditional baby bottle. The voltrx electric shaker bottle has been proven to provide an excellent mixing effect than traditional shaker bottles. With industry-leading sealing and impact-resistant and odor-resistant materials, MiiXR AA is a blender bottle, you can believe that there is no confusion. The black/grey design provides a high-quality, long-lasting finish. The detachable motor unit allows easy cleaning and, most importantly, easy mixing.
  Removable motor, easy to clean
  voltrx has a detachable motor, so it can easily wash your hands. Add warm water and detergent, open it, and let your new baby bottle clean itself.
  do not shake
  no block
  taste better!
  durable and leak-proof
  The feeding bottle has evolved!
  Voltrx's powerful battery-operated vortex Shaker Bottle for ultra-smooth protein shakes. Durable, BPA-free bottle with ultra-performance sealing and leak-proof sports lid. It's time to take a stand against the lumpy protein shake, crunch The milk cup and the smell keep the bottle!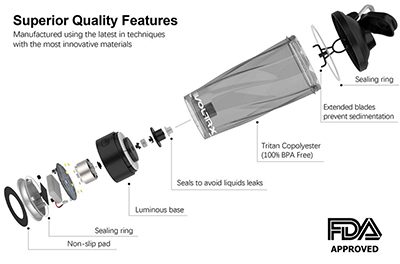 As stylish and ergonomic, MiiXR AA bottle is stain and odor, easy to clean. In the tough and durable copolymer, the bottle is characterized by a newly designed measurement scale that clearly shows two milliliters + ounces.
  Twist lock detachable base
  Double sealing technology
  Industry leading seals
  splash protection
  Don't tremble. Don't mess around. Better taste-powerful vortex mixer and patented X-blade technology for super smooth protein shakes.
  battery powered motor-is powered by 2xAA batteries (not included-select high-quality alkaline), so you can mix them together!
  Durable, easy-to-clean bottle-including measuring scale (ml/oz), it is tough, odorless, BPA/DEHP-free, and easy to clean-add warm water and detergent, open, and let your MiiXR AA electric The bottle cleans itself.
  design. Features. Performance-after six years of passion and product evolution, designed in the UK: breathtaking appearance, functional innovation-and tested, recommended and cherished by athletes all over the world.
  super smooth shaking
  Athlete-tested ergonomic design and portability, AA is your perfect partner, at home, in the gym, or in progress. For convenience and quality, MiiXR AA is perfect for those busy lifestyles. A vortex mixer is portable so that your supplements can be mixed properly, super convenient without confusion.
  more than 1 million happy customers
  In the global leadership of hybrid technology, voltrx has sold more than 1 million products. Recognized by athletes all over the world, they believe that voltrx's patented X-Blade mixing technology can blend their supplements correctly and effectively.